Take bobbin lace lessons
Lessons at the workshop (Provins, Seine-et-Marne) : Initiation and improvement of lace-making
You wish to learn the art of bobbin lace ?
You wish to improve your skills ?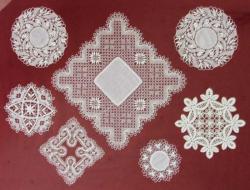 Join us at our workshop every saturday morning from 9 to 12.
I need you to sign up before you come, as for a training of quality you cannot be too many !
The classes take place in PROVINS (77160) in the medieval town center, at the Hôtel de Savigny in the city heights.
Cost of a class : 20€ for half a day.
Fee for a 10-class course : 180€
Contact me : 06 64 18 64 00
English can be spoken.
The school also gives distant bobbin-lace courses : initiation, Valenciennes, Duchess
You wish to learn lace but you cannot move or stay several days far from your home to follow a full-scale formation ?
No importance ! If you cannot come to the lace, it will come to you !
Once I receive your sign-up form, I will send you a support for the lessons with explanations and cardboards for the different exercises. You will have one year after the sending date of the documents to go through the whole course.
Sign-up to be sent with the payment :

Convention de cours de dentelle par correspondanc1 (7.54 Ko)
You will have to return the exercises you've done progressively. I recommend you wait for the correction before beginning the folowing one.
During this lapse of time, you will be able to contact me either by phone or by mail to tell me about the difficulties you may find. I will answer your questions in the best time.
Currently :
Initiation courses of level 1, 2 and 3 are based on my book : Le B.A. BA de la dentelle aux fuseaux.
If you do not already have the book, add 20€ for its purchase and tell me if you wish it to be dedicated !
Initiation course level 1 : 95 €
Learning of the use of the tools
Preparing a piece of work
Initiation to the basic points (canvas-lace, grid, torchon-lace...).
Possibility of acquiring a starting kit : 70€ (transportation fee depending on the country)
one hoop
30 bobbins
a pin box
one magic-eye
Initiation course level 2 : 95 €
Initiation to the Barley-lace
Lacing of shells in grids and canvas-lace
Lacing of an angle
Technique of junction of to pieces of work
Initiation course level 3 : 95 €
Backgrounds
Crocheting
Figurative lace
Initiation course to Valenciennes lace : 180€
—The Valenciennes background (Basic exercise with 4 bobbins then with 16)
Making a simple lace model (Background, border, Valenciennes drop)
The "écaille en dedans" ("inside scale")(entry with 6 bobbins, exit with 4)
The "green pea" (entry with 4 bobbins, exit with 6)
The "rosary" (junction of two peas without left or right shifting)
The "snail" (junction of two peas with left and right shifting)
The "beaded border" (work with a border with scales and making of an angle)
Duchess-lace course : 180€
Making of a mast with pivots
Leafs - leaf n˚1
Leafs - leaf n˚2
Leafs - leaf n˚3
First flower
Swirls
Pellets
Synthetic exercises
Material furnishing
For the distant courses, we have a starting kit at your disposal.
It includes : a hoop, 30 bobbins, a pin box, and a "magic eye".
Price : 55€
Shipping fee : 15€ (for France, subject to change for other countries)
For any other type of material you may need, feel free to contact me.
Payment to be done with your request, by check to Sophie Mollaret.
Organizing your initiation or improvement course
You wish to follow a ponctual course during one or more days.
Contact me to find a way to organise the session.
For example, a session organized one one full day : initiation to the

"Point d'esprit" (1.03 Mo) (Document in French)
I can also offer more specified sessions in Provins or where you want.
Please plan a minimum of three students. According to the distance, I will charge you for the housing and food fees.

exemple de stage en Valenciennes (463.87 Ko)(Document in French)
If you wish to organise a session or participate to one, please call me : 06 64 18 64 00.